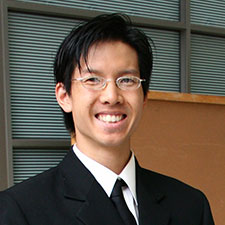 Leo Chan created and manages the Technology R&D Department at Nexcelom Bioscience, a privately held cell-counting solutions company near Boston. Since 2009, he has helped shepherd five new instruments from initial concept to product launch, and he has increased the company's patent filings five-fold.
He has also stayed active in research, developing customer-specific cell-based assays for image-based cytometry systems, multiple fluorescent reagents and buffer product kits, and novel polymers for microfluidic consumable products.
According to Chan, one of the best parts of working for a small company is the variety of tasks he faces each day. "I'm doing sales, demos, technical support, visiting customers, writing research papers and marketing content, and developing technology," Chan said. "I have a lot of freedom to do what I want to do, and I know what I do has a big impact on the end user."
Those end users include researchers in a broad range of fields, including research hospitals & labs, pharmaceutical companies, breweries, and bakeries—anyone who has a need to count micro particles or cells.
As a graduate student, Chan played a key role in establishing MNTL's Bionanotechnology Lab and later served as the first manager of the facility. He developed the lab workflow, including enforcement of safety procedures, equipment use, and training protocols. "I put a lot of time in that lab."
Looking back on his time at Illinois, Chan recalls two experiences that influenced his career path. He collaborated with researchers from his advisor Brian Cunningham's start-up company, SRU Biosystems, learning how a small firm operates. "We only touched the surface, but we did learn from what Brian was doing," Chan said.
Chan also participated in a visiting scientist program in France one summer, designing and developing biosensors and bioassay techniques for label-free impedance spectroscopy. "It was enlightening—a very eye-opening experience to see how other groups conduct research," he said.
Having benefitted from these experiences, it's no surprise that Chan encourages current graduate students to get involved with as many activities as possible to see what interests them most. "Once you leave campus, you won't have opportunities to try things like this again," said Chan. "Join as many organizations as you can—not everything is about research—so you can develop the social and people skills and make connections."
LEO CHAN'S TOP 3 ACCOMPLISHMENTS SINCE GRADUATING FROM ILLINOIS
He became his company's expert in the image cytometry field. "I can develop [technology] and I know what is the right thing to develop for my industry."
He learned to think like the customers and end users of image cytometry technology. "A lot of people can only think from the developer side. But in order to make sure the company is successful, you must be able to interact with the customer and go out and do sales and demos. I've been able to do all those things with this company."
In 2011, he started TofuKungFu, an online fashion apparel company, with friends while also working full time at Nexcelom. "I wanted to learn how to run a business and learn the sales and marketing side," said Chan, who is the company CEO.