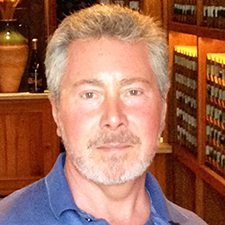 Early in his career, Eric Nagel (BSEE 1977) remembers sitting with his fellow product engineers at Motorola"s cafeteria in Phoenix listening to them talk about all the things they were going to do in their careers. Day after day, he listened, realizing that talking was about all they ever did.
"I remember thinking that I wouldn't let myself fall into that rut," Nagel said. "So, I took chances, and I took risks, and it turned out relatively well."
Semi-retired for the past two years, Nagel has had a successful career primarily as a semiconductor sales executive in Silicon Valley with big-name companies such as Intel, Samsung Semiconductor, and Silicon Design Systems, as well as with a series of start-up companies. He also co-founded his own market research firm, Inflection Point Research LLC, which provides semiconductor industry analysis services to Wall Street investors.
While he got his start in semiconductor sales at Intel, Nagel flourished at Samsung in the early 1990s, growing corporate sales with such clients as AT&T, DEC, Intel, and UNISYS from $7 million to nearly $80 million over a three-year period. At Silicon Design Systems, Nagel closed major multi-million-dollar deals with Cisco, Microsoft, and LSI Logic.
According to Nagel, some of his career success can be traced back to the experiences he had as a student at Illinois, including his ability to give dynamic presentations. "I was involved in a lot of extracurricular activities—probably way more than I should have been—but it has helped in my overall growth," said Nagel, who was editor of Technograph, the student-run engineering magazine, a student senator, and an AAU teen national powerlifting competitor.
Nagel also took the popular ECE 444 (previously known as ECE 344) Theory and Fabrication of Integrated Circuits course, which was relatively new and whose class size was somewhat small in the mid-1970s. As a result, Nagel got to know his teaching assistants well—a lucky break that paid dividends more than a dozen years later.
A relatively new sales manager at Samsung in the early 1990s, Nagel was tasked with giving a presentation to a notoriously intimidating and harsh executive at a sales meeting in Korea. "This guy made Steve Jobs look like an angel," Nagel said.
However, the night before the presentation, Nagel ran into his former ECE 344 teaching assistant Jon Kang, who was very close with the executive's boss. Kang introduced the executive to Nagel as his friend, and mentioned he should be easy on him. The next day as all other presenters were systematically ripped apart, Nagel wasn't to the astonishment of everyone in the room.
"After my presentation, the executive says, 'Great job, I'm looking forward to seeing great things out of you,'" Nagel recalled. "That set me up with all the other Americans and the Koreans who were in the meeting—they thought I must be something special and they better listen to me all thanks to ECE344."
Today, Nagel teaches presentation skills classes, mentors startup companies, and tends to his impressive wine collection. He and his wife also enjoy traveling.
What advice would Nagel give to current MNTL students? Learn to communicate your ideas well by taking every opportunity to hone your presentation skills while you're still in school. "I know there's probably students out there who will do everything they can to get out of giving presentations but those students in particular need the help the most," he explained. "Being able to give great presentations makes a huge difference."
ERIC NAGEL'S TOP 3 ACCOMPLISHMENTS SINCE GRADUATING FROM ILLINOIS
Reaching his lifetime goal of being able to retire by age 60. "Being able to retire and be financially independent has opened up a lot of adventures for the rest of my life."
Hiring and mentoring people that he knew could succeed even though other candidates may have had slightly better credentials on paper. For example, Nagel hired a young woman to be communications manager when he was at Intel, despite getting pressure from his boss to hire another person who'd gone to MIT. "This young lady ended up having a good career at Intel and she now runs her own philanthropic organization benefitting women in education," Nagel said. "Most of the people I worked with are still good friends and not many bosses can say that."
Being happily married for more than 27 years and staying healthy. "We were able to keep our relationship together in Silicon Valley, which isn't always the easiest thing to do," he said. "We exercise a lot and we're best friends and we're looking forward to our next adventures."